Who We Help
Our students are hard-working, optimistic and deserving of the opportunity to get an education and improve their futures. They have succeeded in their first six years of schooling, often walking miles, without breakfast to get to their local elementary schools. However, despite passing entrance exams to get into secondary schools, these students cannot afford the tuition or are unable to travel the distance to the nearest secondary school. Without the opportunity to advance their education, these young people, who have dreams of becoming doctors and teachers and pilots, and who want to improve the communities they live in, will have no option but to continue lives of poverty.
Why these students?
Educational disparities exist all over the world. Why donate to students in Zimbabwe, Zambia and Uganda? First, we have chosen to work in countries where primary and secondary school are not guaranteed. In the US, a child has the opportunity to attend school– in the areas we work, that opportunity is not a given. Second, we believe that, in an increasingly interconnected world, it is important to understand, participate in and invest in communities that may seem a world away, but who in reality, are deserving of the same opportunities we have in the US. In East Africa, the word " Ubuntu" means " I am because we are". This mantra encapsulates why we work where we do.
Africa has the highest rates of
educational exclusion in the world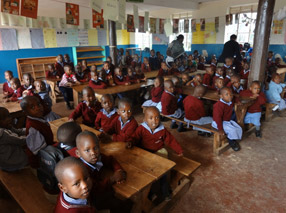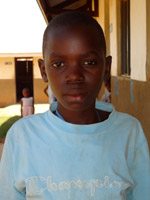 Wamala H.
Wamala is currently an eighth-grader at Modern Primary School in Rukungiri, Uganda. Wamala grew up in Rwenshama, a small, remote village on the shores of Lake Edward. He is one of five children and his parents, who fish and smoke fish for a living, do not make enough money to send him to school, much less to pay for the uniform fees and school supplies that are a requirement for a student to attend school in Uganda.
So Others May Learn began sponsoring Wamala two years ago, when his older brother approached us explaining Wamala's desire to go to school. Due to an underlying medical condition, Wamala has to be near a hospital to receive treatment, a requirement that has prevented him from attending school. Given his academic performance, his motivation to attend school, and his keen desire to be a doctor when he grows up (a fact he continually mentioned to us throughout his interview), So Others May Learn agreed  to sponsor him.
Now, two years later, Wamala is about to enter his final year at Modern Primary School, the premier boarding school in Southwestern Uganda that boasts a 90% admission rate to secondary school and an overwhelming number of government scholarships to the University. Modern Primary School is also located a few miles away from Nyakibale Hospital, which allows Wamala to receive treatment for his medical condition. He excels in math and science at school, and remains dedicated to his dream of becoming a surgeon. We can't wait to see what he accomplishes in the next five years!
Webster N.
Webster is finishing his second year of secondary school at Tsholoshoto High School. So Others May Learn began sponsoring him after his eighth grade year. Webster dreams of becoming a chemical engineer when he grows up, and we have no doubt he will succeed in whatever he endeavors to do — he has remained first in his class of 61 for the past two terms. Despite his interest in the hard sciences, however, Webster has excelled in all of his subjects, scoring a 93% on the national test for history and earning an "outstanding performance" commendation.
Webster is from a small village outside of Bulawayo, Zimbabwe, and was one of many students who, in primary school, walked miles to attend school in a one-room, dirt floored classroom. Now, Webster attends Tsholoshoto High School, a private college preparatory boarding school in the city that aims to integrate local and global interests. For example, students are required to learn both English and Ndebele (the local language), local agriculture and geography. By teaching their students a wide variety of subjects, both practical and theoretical, Tsholoshoto enables their students to succeed in a wide variety of fields.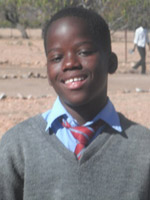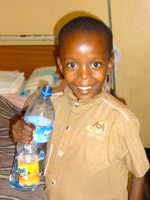 Clinton A.
Clinton A., who due to malnutrition looks much smaller than his twelve years, has been a scholarship student with So Others May Learn since 2010.  His story is as exceptional as he is. Clinton is one of six siblings who, quite literally,  lives in the middle of the bush. His home is seven miles away from the local village of Nyabitete. When he was younger, Clinton made the trek to primary school every day with his siblings. However, when he was 10, Clinton dropped out of school because his parents couldn't afford to pay the $15 needed for his uniform and books. A few months later, Clinton was admitted to Nyakibale Hospital's in-patient malnutrition ward, as he was suffering from Severe Acute Malnutrition due to his family's inability to buy enough food to keep him healthy. Kristina met him while she was working at the  Nyakibale Hospital and was in awe of his eagerness to continue learning even while on the ward.  Despite not having been in school for months, Clinton still eagerly recited his favorite classes, and still dreamed of becoming a pilot one day. His mother mirrored her son's excitement and hope, and articulated to Kristina how hard she was working to be able to save enough money to send all of her children to school.
Upon discharge from Nyakibale, Clinton was offered a So Others May Learn scholarship to re-start his education. Given his unique position, he was given one year to regain academic standing in his school and he surpassed all expectations. Today, Clinton is 2nd in his class and on his way to becoming the pilot he always dreamed of being.