One child. One education.
Infinite possibilities.
So Others May Learn is a 501(c)(3) non-profit organization providing comprehensive academic scholarships to students in Uganda, Zambia, and Zimbabwe who would otherwise not be able to afford school.
The number of students we have sponsored to date.
We sponsor students from primary school through university, and each student commits to paying their education forward.
The amount of your donation that goes to the students.
We are a no-overhead organization, securing our operating costs through volunteer work and dedicated grants.
The number of communities with whom we partner. We work with villages that have a desire to educate their children but a lack of resources to do so.
The So Others May Learn Model
A Genuine Partnership
We commit to providing tuition, room and board, and medical expenses. Our students commit to staying in the top 10% of their class and paying their education forward by mentoring or sponsoring future students upon their graduation.
Zero Overhead
Unlike many organizations, So Others May Learn does not have any overhead costs. Our operational costs are covered by generous in-country volunteers as well as companies who donate their goods and services. This means that 100% your donation goes directly to a student's scholarship.
Transparency
Because of our unique model, we are able to trace your donation directly to a student in need. Our donors are kept up to date on their students' progress and can always come to us with any questions.
Pay It Forward
We believe that the sustainability of education in the communities we work comes from within, and relies on the support and investment from our scholarship students. We therefore ask that each student, upon completion of their scholarship, commits to either sponsoring or mentoring a young, promising student in their community.
Going Where Others Do Not
The team at So Others May Learn has used its collective experience working in sub-Saharan Africa to choose communities that would most benefit from our scholarships. The countries we work in are politically and economically unstable, and we are extremely fortunate to have in-country coordinators who are from the communities in which we work, and who help us operate safely and effectively in those places.
What we promise our students
Once selected, students are supported through their entire education – and encouraged to choose the path they are passionate about
We support students academically and help them achieve their dreams through in-person support and wrap-around services
What our students promise their community
Our students must remain in the top 10% of their class and act as leaders in their communities
In exchange for sponsorship, students pledge to "pay it forward" by either sponsoring or mentoring another student in their community once they complete this program.
Meet our Students
So Others May Learn has sponsored 83 students from Uganda, Zambia, and Zimbabwe to date. We sponsor students from primary school through university, and each student commits to paying their education forward.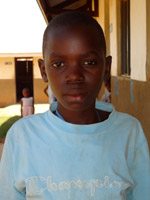 Wamala H.
Wamala grew up in Rwenshama, a small, remote village on the shores of Lake Edward. He is one of five children and his parents, who fish and smoke fish for a living, cannot afford to send him to school.
So Others May Learn began sponsoring Wamala in 2017, after learning about Wamala's challenges and keen desire to become a doctor. Wamala now attends Modern Primary School, the premier boarding school in Southwestern Uganda that boasts a 90% admission rate to secondary school and an overwhelming number of government scholarships to university. Wamala excels in math and science at school, and remains dedicated to his dream of becoming a surgeon. We can't wait to see what he accomplishes!
Webster N.
Webster is from a small village outside of Bulawayo, Zimbabwe. Before So Others May Learn sponsored him, Webster walked miles to attend school in a one-room, dirt floored classroom. Webster dreams of becoming a chemical engineer when he grows up.
Now, Webster attends Tsholoshoto High School, an outstanding private college preparatory boarding school that prepares him for a global economy. By teaching their students a wide variety of subjects, both practical and theoretical, Tsholoshoto enables their students to succeed in a wide variety of fields. Webster excels in all of his subjects and we are proud to support his goal of becoming a chemical engineer.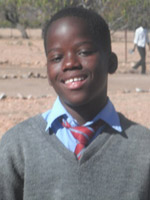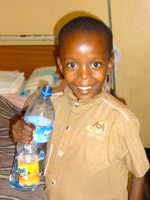 Clinton A.
Clinton A., who due to malnutrition looks much smaller than his twelve years, has been a scholarship student with So Others May Learn since 2010. His story is as exceptional as he is. Clinton is one of six children and lives in a small village in Uganda. Before So Others May Learn, Clinton trekked 7 miles to primary school every day with his siblings. However, when he was 10, Clinton dropped out of school because his parents couldn't afford to pay the $15 needed for his uniform and books. A few months later, Clinton was admitted to Nyakibale Hospital's in-patient malnutrition ward, as he was suffering from Severe Acute Malnutrition. Even while in the hospital, Clinton was eager to continue learning and dreamed of becoming a pilot.
Upon discharge from Nyakibale, Clinton was offered a So Others May Learn scholarship to re-start his education. Given his unique position, he was given one year to regain academic standing in his school and he surpassed all expectations. Today, Clinton is 2nd in his class and on his way to becoming the pilot he always dreamed of being.
a child who finishes school is 3 times less likely to become HIV positive later in life?