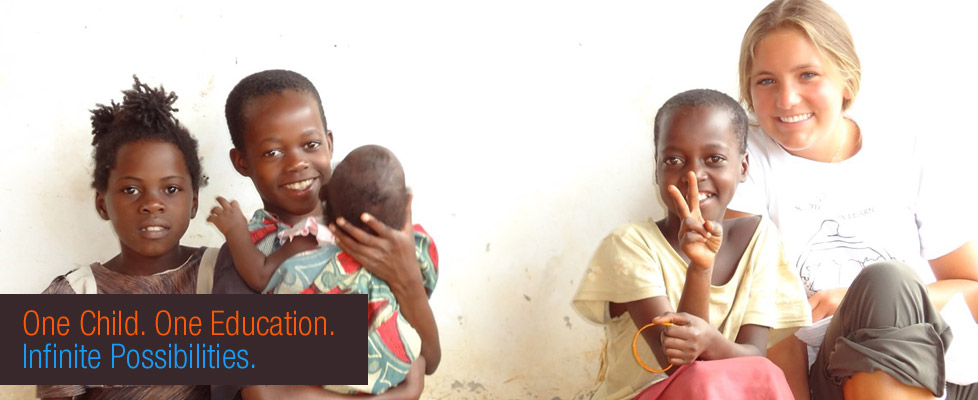 MEET THE TEAM
We are a small but passionate group of individuals who are committed to the idea that through one student, one education, one small step at a time, we can help bring about opportunity and positive change to communities in sub-Saharan Africa.
Did you know that in
sub-Saharan Africa a child who finishes school is 3 times less likely to become HIV positive later in life?
Kristina Tester founded So Others May Learn in 2006, when she was 14 years old and visited Ngamo primary school on a family trip to Zimbabwe. Kristina was touched and inspired by the students she met, and shocked that many of them could not continue to Secondary school because of funding. She decided then to start her organization to give these brilliant young minds a chance at a brighter future. Kristina graduated from Harvard University in 2014, and is currently enrolled in an MD/JD joint degree program at the University of Minnesota. She is passionate about providing good medical care, advocacy and education for vulnerable populations, and is committed to continuing to support the students of So Others May Learn in their educational pursuits.
Meredith McQuaid is the Associate Vice President and Dean of International Programs for the University of Minnesota system. In this role, she promotes the global dimensions of teaching, research, and engagement across all colleges and campuses of the University. She currently serves on the Board of Directors for AIEA (Association of International Education Administrators), and past-President of NAFSA: Association of International Educators, the largest nonprofit professional association dedicated to international education.
Peter Tester is Senior Corporate Counsel at Ecolab Inc., a Fortune 500 company headquartered in St. Paul, MN, that is the global leader in water, hygiene and energy technologies and services.  Peter provides legal advice to all levels of corporate and divisional management on worldwide environmental compliance issues related to manufacturing facilities and associated warehouses, and on regulatory compliance matters regarding  products and related services for the company.  Previously, he worked as an Assistant Attorney General in the Natural Resources Division of the Minnesota Attorney General's Office.
Mary Goetz is a Minnesota native and a Boston College alumna, now a 2L at Harvard Law School. She has enjoyed participating in and volunteering at So Others May Learn events and is honored to be serving on the board.
Anna Michel is the co-director of So Others May Learn, and has been with the organization since its inception. In 2009, Anna was in charge of the Strides for Schools 5K, held in Golden Valley, MN and in 2011, she was responsible for the grant So Others May Learn received from Bethlehem Lutheran Church. Anna is passionate about education graduated with a degree in mathematics and theater from Gustavus Adolphus College. She is now pursuing a Masters of Arts in Teaching Theatre at Hamline University. Anna also works as the technology director at Southwest High School.
Ellie Newman graduated from the University of Wisconsin – Madison Business School in 2010 with a BBA in Marketing and a certificate in French. She lives in Chicago has worked for Media Planning Group, Carat and Spark Foundry over the years. Ellie originally joined the board of SOML because she was so impressed and inspired by the impact the organization was making on children's lives in sub-Saharan Africa. She recently accompanied Kristina on her latest trip to visit the students in Uganda, Zimbabwe and Zambia, and was absolutely overwhelmed by their kindness, warmth and passion for education. She returned with a newfound determination to grow the organization.
Maureen Vincent is the in-country coordinator for all of our students in Zimbabwe. Originally from Harare, Zimbabwe, Maureen now lives in Gabarone, Botswana. In addition to working with Wilderness Safaris and Children in the Wilderness, Maureen visits the students regularly to check in on their progress and has been crucial to the success of So Others May Learn. She has been with the organization since its founding and is now facilitating the transition to University for many of the first scholarship students.
James Mwanza serves as the in-country coordinator for the Zambia Scholarship Program. He is  from South Luangwa Area in the Lupande Game Management Area in Zambia.  Mr Mwanza has 12 years work experience in NGO project management. He holds a Diploma in Business Management, Advanced Diploma in Nature Conservation and Trans frontier Conservation Management and Diploma in Social Work. Mr. Mwanza has worked for the World Wild Fund for Nature in the Land Use Planning Project and was the Programme Coordinator for the Livingstone Tourism Association. He currently works with Children in the Wilderness as a program coordinator.
Silver Kabwere is currently the Deputy Head Teacher at Rukungiri Modern Primary School.
He holds a grade three (G V)teaching certificate from Kyambogo University.
Silver is dedicated to the students of So Others May Learn and works within multiple districts of Uganda to coordinate their secondary school placements and continued success. Silver has most recently been working with Headmasters across the country to grow SOML and include scholarship students from districts across Uganda.
Hutton Phillips a recent graduate of George Washington Univeristy and a Minnesota native who calls Chicago home. Hutton joined the board of So Others May Learn in 2013 and has been instrumental in spearheading a variety of fundraising initiatives for the organization. Hutton is in her fourth year as Co-Chair of We Day Minnesota, an event that brings together 18,000 young people to celebrate their power to create positive change in their local and global communities. Through their We Act curriculum, We Day has brought service learning to over 187,000 students from 560 schools across Minnesota.